TOEFL & IELTS Courses
We will provide support for you in your efforts to get a good score on the TOEFL or the IELTS. Our TOEFL and IELTS experts are native-level English speakers and have done in-depth research into both of these tests. Their guidance and expertise have helped our students to get better results, and we have created this course to bring out your potential.
What is TOEFL?
What is IELTS?
What are the differences between TOEFL and IELTS?
IELTS or TOEFL- which should I take?
How to prepare for IELTS or TOEFL?
Our strategy is based on highly personalized sessions for each student. Identifying students' weaknesses is extremely important to us, as it allows us to focus on remedying students' weaknesses while simultaneously reinforcing their strengths. Through a series of sessions, we will be able to analyze your weaknesses, devise a strategy to counteract those weaknesses, and continue to reinforce your strengths.
This course offers several flexible options in order for you to choose from, including the option to focus more on specific subjects than on others.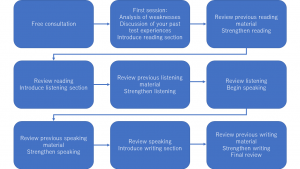 Course options
8 sessions of 50 minutes each (2 x reading, 2 x listening, 2 x speaking, 2 x writing)
12 sessions of 50 minutes each (3 x reading, 3 x listening, 3 x speaking, 3 x writing)
If you wish to focus on specific subjects, you may purchase individual sessions in order to customize your learning experience. You may also add additional sessions to the standard plans.
Content
You will be assigned to an Expert. The Expert will keep track of your progress, hand out assignments, and explain test strategies and techniques. In addition to face-to-face sessions, the Expert will also be able to provide support and answer questions over the internet with our system.
Price
193,600 yen incl. tax (8 session course)
290,400 yen incl. tax (12 session course)
24,200 yen per session (for individual sessions)